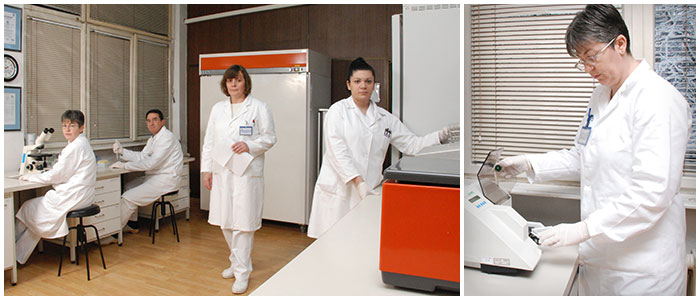 Head of the Department of Immunology
Dr. sci. Vet. honey Jadranka Žutić, senior research associate
Phone: 011 285 1096 / extension 111
Fax: 011 285 1096
e-mail: jadranka.zutic@gmail.com
Areas of work :
Immunodiagnosis of bacterial diseases of animals.
Examination of pathological material, primarily blood samples, in order to detect the presence of antibodies against bacteria important for veterinary medicine, including those that cause zooanthroponosis.
Preparation of antigens, diagnostics and hyperimmune serums.
Diagnostic tests aimed at early detection of infectious diseases, in accordance with the Rulebook on establishing the Program of Animal Health Protection Measures of the Ministry of Agriculture, Forestry and Water Management of the Republic of Serbia.
Introduction of new diagnostic procedures.
Cooperation with related scientific and specialist organizations.
Main activities :
Laboratory diagnostics: microscopic agglutination test (MAT), rapid serum agglutination (BAB test, Rose Bengal test), classical serum agglutination (SAT), complement binding reaction (RVK) and immunoenzyme test (ELISA).
γ-interferon test for proving infection of cattle with Mycobacterium bovis , the causative agent of tuberculosis.
By decision of the Ministry of Agriculture, Forestry and Water Management – Veterinary Administration, the Department of Immunology is authorized to:
performing laboratory diagnostics of sakagia and durina in samples of pathological material
storage of reference sera and standard reagents
introduction of new diagnostic methods
testing and checking the quality of vaccines and diagnostic reagents
the organization of interlaboratory comparative tests of laboratories at the national level, as well as confirmatory tests of findings obtained in other laboratories.