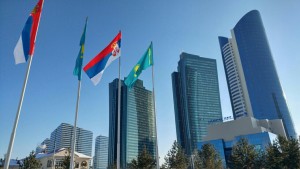 The state-economic delegation of Serbia participated in the Serbian-Kazakh business forum, which was held on 15 November 2016 in Astana, Kazakhstan organized by the Chamber of Commerce of Serbia, the Kazakh National Agency and business association Kazneks invest.
The Serbian delegation was led by the Prime Minister of the RS Government, Aleksandar Vučić, along with the Minister of Economy, Goran Knežević, and the President of the Communist Party of Serbia, Marko Čadež.
Dr. sci.vet.med. Dobrila Jakić-Dimić, director of the Scientific Institute of Veterinary Medicine of Serbia, participated in a business forum in Astana that gathered representatives of more than 200 Serbian and Kazakh companies from the sectors of agriculture and food industry, construction operatives, mechanical engineering, energy, chemical industry, with the aim of considering the possibilities of improving bilateral economic cooperation between Serbia and Kazakhstan, as well as the conclusion of business arrangements. After the plenary meeting, bilateral talks were held.