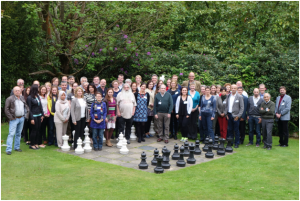 Vesna Milićević, M.Sc., was the head of the virology department in the period from 20. to On May 21, she attended the annual meeting of the reference laboratories of the European Union for foot-and-mouth disease, which was held in Ascot, Great Britain, in the organization of the EU reference laboratory – the Pirbright Institute.
At the meeting, the results of interlaboratory tests were presented, in which NIVS participated and achieved accurate results. The situation of foot-and-mouth disease in the North of Africa was also presented, which is quite worrying because in 2014 In 2001, the O/ME-SA/Ind-2001 virus was discovered.
The EURL for swine vesicular disease informed the attendees that at the OIE meeting in May 2014. it was decided to remove swine vesicular disease from the list of notifiable diseases, and from January 2015 SVD is no longer found in the Terrestrial Code.
Vesicular disease of pigs in Europe last appeared in Italy in 2008 where in the regions of Campania and Calabria.