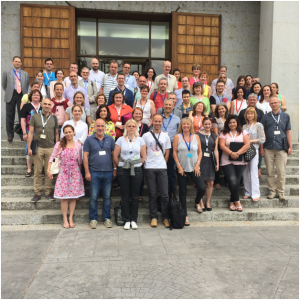 The meeting of EU national reference laboratories for African and classical swine fever was held on June 9-10, 2014. in Madrid, Spain. The representative of NIVS, which is the national reference laboratory for these diseases, was Vesna Milićević, MA, Head of the Department of Virology.
At the meeting, the countries where classical swine fever is still a problem presented the epizootiological situation. The German National Reference Laboratory (FLI) presented the results of the safety test of the new marker vaccine against classical swine fever, CP7 E2alf, and the possibility of shedding the virus through the male genital organs. Along with the marker vaccine itself, an AbELISA was developed that can distinguish infection from vaccination.
Lithuania, Latvia, Estonia and Poland presented the epizootic situation of the African plague. Due to the special importance of food of animal origin that has not been sufficiently thermally treated, sausages sampled at the borders where the genome of the African swine fever virus was proven were examined. Although the biological tests performed by feeding pigs with such sausages showed that the pigs did not suffer from African plague, food from infected countries is characterized as a special risk for introducing ASF.
EURL for African and classical swine fever presented in detail the results of interlaboratory tests in which NIVS also participated with good results.