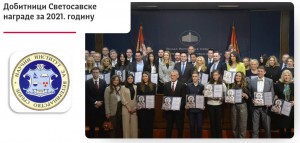 The Scientific Institute of Veterinary Medicine of Serbia was awarded the Svetosava Prize for its outstanding contribution to science and the economy!
The Scientific Institute of Veterinary Medicine of Serbia celebrates 95 years of existence and its great influence is seen through its contribution to the development of science and research, state administration and economy. The institute and its employees as individuals are the bearers of numerous national and international recognitions and awards. The achieved results and their significance are reflected in the published large number of scientific works, books, atlases, monographs and bibliographies, international cooperation within various associations, participation of individual researchers on the list of experts, involvement in editorial boards, mentoring during the preparation of doctoral dissertations, reviewing papers in renowned journals, and especially in activities to prevent the spread and suppression of the infectious disease COVID-19.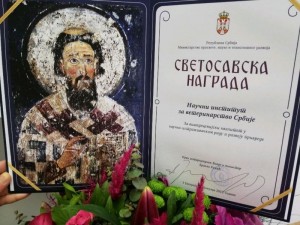 [slideshow gallery_id="1″]
The Scientific Institute of Veterinary Medicine of Serbia is the oldest veterinary institution in our country, founded in 1926. under the name Central Veterinary Bacteriological Institute.
The basic activities of the Institute are:
applied and developmental research in biotechnical sciences
clinical and laboratory tests in the function of animal and human health protection
consulting and technical analysis in the application of measures for the prevention, suppression and eradication of animal diseases
checking the quality of products, food for feeding animals and foodstuffs of animal origin
In order to constantly improve the quality of its work, the Institute introduced and certified the standards SRPS ISO 9001:2015, SRPS ISO 14001:2015 and SRPS ISO / IEC 17025:2017.
The scientific work of the Institute takes place through the realization of projects of the Ministry of Education, Science and Technological Development and international projects.